Documentation of the game
The rules can change at any time and this manual will be updated accordingly.
Click on the section of the manual you are interested in. For the newbies, reading the quick start tutorial is recommended as it can answer a lot of questions. You can also contact us directly by email (see the address above). If you are interested in the next updates to come, have a look on our strip poker blog.
Introducing strip poker
---
Strip-Poker.xXx is an online video strip-poker playable right into your web browser. It's a Texas hold'em which mixes at a same table real players with virtual female players. Players are real people like you connected on their computer somewhere in the world. Girls are computer-driven players who appear in the game through videos. Game's goal is easy to catch, you have to get all the girls naked and win more than your opponents to get a better ranking. If the players succeed in making all the girls naked, they win the game!
Quick start tutorial
---
Follow these steps one by one to start playing and become familiar with the gameplay.
Update your web browser
---
First of all, check if you browser is up-to-date. An old browser won't be able to properly run the game. To check your browser version, have a look in the Help » About menu. The browsers officially supported are Google Chrome, Mozilla Firefox, Microsoft Internet Explorer 10 and after and Opera. If you don't use any of these browsers, we strongly suggest you install one of them to play.
Create an account
---
Then, you have to create your account on Strip-Poker.xXx. In order to do that, you will only need a valid email address. Registering will not take you more than one minute. Click on the link "Sign up" in the top-right corner. Fill in all the required fields and submit the form. Then, go to your email inbox: you shall receive our activation email in less than one minute. Open up our message and click on the link inside to confirm your email address and activate your account. That's it, you can now log in! (NB: if you don't get the validation email, don't forget to check your spam).
Choose a room and start a game
---
Now, go back to the rooms page. Choose a free room to start in order to be able to see all the videos. To make sure you choose well your room, pay attention to the following points:
Rooms can be either in normal mode or in speed mode. Rooms in normal mode display videos each time a girl plays, let 20 secondes to a player to make up his mind and let the player raise with any amount of chips. Rooms in speed mode let 10 seconds to a player to play, only display strip-tease videos and sexy shows videos and ask the player to choose between a raise of 10, 20 or 30 chips.
Now, you know everything (or almost... ;)). Enter a room and click on "seat here" at the place of your choice to join the table. Et voilà! At the next deal, you'll be part of the game. If you spot a bug or a weird game behaviour, please use the button "report a bug" to let us know about it. Have fun!
Hardware and software requirements
---
Minimum configuration
---
To play, you will only need an up-to-date browser (check that you have the very last version installed on your computer). You can not play with old Internet Exporer versions (6, 7, 8 and 9). For the best game experience, we highly recommend you use Google Chrome, Mozilla Firefox or Microsoft Internet Explorer 10. These browsers are powerful, fast, secure and compliant with web standards.
Currently, the game works on any classical desktop OS: MacOS X, Windows XP, Vista, 7 and 8 or any Linux distro. On Mac OS X, avoid playing with Safari as this browser is not officially supported.
The game can theorically run on Android devices with Android >= 4. However, in practice, expect it to work on most of the Android tablets but not on all smartphones, the game needs a minimum of CPU power. Also, remember that the android default browser is not supported, download Mozilla Firefox or Google Chrome on Google Play Store. At last, iOS devices are not supported so the game is not supposed to properly work on an iPad or an iPhone.
It can happen that the game runs slow while videos are playing on old computers with little RAM. If it's the case, make sure you close all your unnecessary applications before firing up your browser.
Troubleshooting
---
If you are denied access to a room with a message telling you that your browser is too old, update it or install the last version of Mozilla Firefox, Google Chrome or Microsoft Internet Explorer 10 instead. You won't loose your bookmarks in doing this as any browser is packaged with a bookmarks import functionnality and your computer will be much better protected against virus and malwares which hang aroung in the internet.
Rooms
---
Choosing a room
---
To choose a room, log into your account and go on this page. Some of the rooms may be locked: a room won't allow new players to come in if all the girls inside are naked for example. Only players who were in the room since the beginning can still enter. To help you to make your choice, each room block displays a lot of useful informations.
Free rooms, premium rooms and private rooms
---
There are three different kind of rooms: free rooms, premium rooms and private rooms.
Free rooms
---
Free rooms are as their name suggest, free for all. Any player can enter and play in a free room. At the end of a game, you can win some and some points for the rankings. Girls playing in these rooms are always the same ones.
Premium rooms
---
Premium rooms are also open for all but only premium members (players who got a subscription) will be able to see the girls videos once the first item of clothing is lost. In other words, when a new game begins in a premium room, every player can play and see the videos of the girls, including the sexy shows and the strip-teases. But once a girl has lost her first item of clothing, only premium members will see her videos. Girls in premium room are not always the same ones and new ones are regularly added. Girls shows are also naughtier (dildo action) than in free rooms. At the end of a game, you can win some and some points for the rankings.
Private rooms
---
Private rooms are for premium members only. A premium player can create his own room with the girls of his choice for a few . The player who created a private room is the only one to be able to enter it, it is invisible to other players. Unlike other rooms, a game in a private room won't give the player any or points for the rankings. To create a private room, click on on the link "Create a new private room" on the private room box at the bottom of the rooms page. A form in a pop-up will allow you to set up your private room: you can choose its name, the girls you will play against and the game mode (normal or speed). You can not have more than 2 private rooms open at the same time. Also note that your progression is automatically saved as soon as you leave the room: you can play your game on several days or months (3 months maximum) if you want to.
Mode normal et mode speed
---
At the bottom of a room block is displayed the game "mode". There are two game modes, normal mode and speed mode. Normal mode is a mode well balanced between videos displaying and game speed. Speed mode offers a gameplay much faster with less videos to display. In normal mode, each player is given 20 secondes to play while in speed mode only 10 secondes are given. In normal mode, a video is displayed each time a girl plays (bet, fold, etc...) while in speed mode only sexy shows and strip-tease are displayed. To know more about videos, read the help section on girls. At last, the value of a raise only depends upon the player in normal mode while in speed mode this one has to choose between 10, 20 or 30. In short, here are the differences between normal and speed mode:
| | Normal mode | Speed mode |
| --- | --- | --- |
| Time to play | 20 secondes | 10 secondes |
| Videos | Actions, strip-tease and sexy shows | Strip-tease and sexy shows only |
| Raise | Any amount | 10, 20 or 30 only |
Number of players required and number of players present
---
A game can only start if a minimum amount of players is already in the room. At the bottom of a room block, the number of players required to start is displayed with the number of players already present. This last number does not take into account spectators but only players seated at the table. If the number of players seated is superior to the number of players required, the game has begun. You can either join a running game or enter an empty room and wait for someone to join you.
Entering and exiting rooms
---
You always start a new game with 100. You can leave a room at any time, join an other game or come back a bit later.
» If you leave a room and come back to the same room without having played in an other room, your stack will be automatically restored.
» If you leave a room, then go playing in an other room and come back to the first one a bit later, your stack will be restored if you had less than 100 but will be reset at 100 if you had more.
» You can play in two rooms at the same time, just load them in two different tabs.
Remember that if you leave a room, other players will probably play in it and will eventually close it before you're back. Furthermore, if a room which stays without any players for more than one hour is automatically closed. In the case of a private room, you are sure to find the game in the same state you left it (but only within a 3 months lifespan) and you are the only one being able to close or erase it. At last, if all the girls are naked and all the players leave the room before the end, the room will be closed 3 minutes after the departure of the last player.
Girls present in the room
---
A room block displays at last the girls who are in the room with the items of clothing they got left. Girls are not taken into account in the number of players present in the room (see previous paragraph).
Chips and room fees
---
Chips and rebuy
---
When a join a new game, you will always start to play with 100. If you loose all your chips, the game will offer you to rebuy in exchange of a few (see winning hearts below).
» The first rebuy costs 5.
» The second rebuy costs 10.
» The third rebuy costs 30.
If you don't have enough to rebuy or if you already have bought 3 times you lost this game! You can if you want buy some extra hearts.
The girls start a game with 100 like you. When they loose all their chips, they take off an item of clothing in exchange of 100 new chips.
Room fee
---
It's a fee on the profit you make at the table. This fee only applies when your profit is bigger than 10 . From a profit of 10 , a fee of 10% is applied before adding the chips to your account. The exact amount of the fee is displayed in the events log above the flop.
Closing a room
---
When a naked girl looses once again all her chips, she will do a last sexy show and leave the table. When all the girls have left, you have won the game: the room is automatically closed and the score board will be displayed. Note that when all the girls are naked in a room, other players can't join the game anymore. Closing a room will let you win some and some points for the rankings. The score board show what you and the other players won. Note that the players are ranked on the profit they made not on their stack:
Profit = Stack - 100 starting - 100 rebuy x number of rebuy
Winning
---
You will win for each girl you stripped. The player ranked first also wins a bonus of 2 .
Winning points
---
The score board also shows the points you won in closing this room. The number of points depends on the number of real players who closed the room with you and on your rank (based on your profit). You are ranked on your profit, not on your stack as explained above. To know more about rankings, see Highscores and rewards.
To win points, a player must have played at least a few hands in a room. The ratio of involvement of a player is calcutated this way: for each deal, the program will count the players in the game. The ratio of involvement is the number of hands a player has played divided by the number total of deals.
There are 3 ways to score points. The player must always be sat at the table at the end of a game to get them.
Dedication points:
» A player who played more than 20% of a room and won a profit greater than 50 scores 1 point.
» A player who played more than 60% of a room scores an other point.
Skill points:
» For each "defeated" opponent (real player only), a player scores an extra point. A opponent is said "defeated" when he ends up with a stack of 0 at the end of a round while having started it with more than 50. Only the player who wins this round gets this point.
Ranking points:
» The following table shows how these points are given out. The number of opponents is the number of players who played more than 20% of the room. To win these points, a player muwt have played more than 30% of the room and won a profit greater than 100.
| Number of players who played more than 20% of the room | 1st (Chip leader) | 2nd | Others |
| --- | --- | --- | --- |
| 1 | 1 | -- | -- |
| Between 1 and 5 | 3 | 1 | 1 |
| More than 5 | 5 | 3 | 1 |
Game interface
---
This chapter describes precisely all the items in the game interface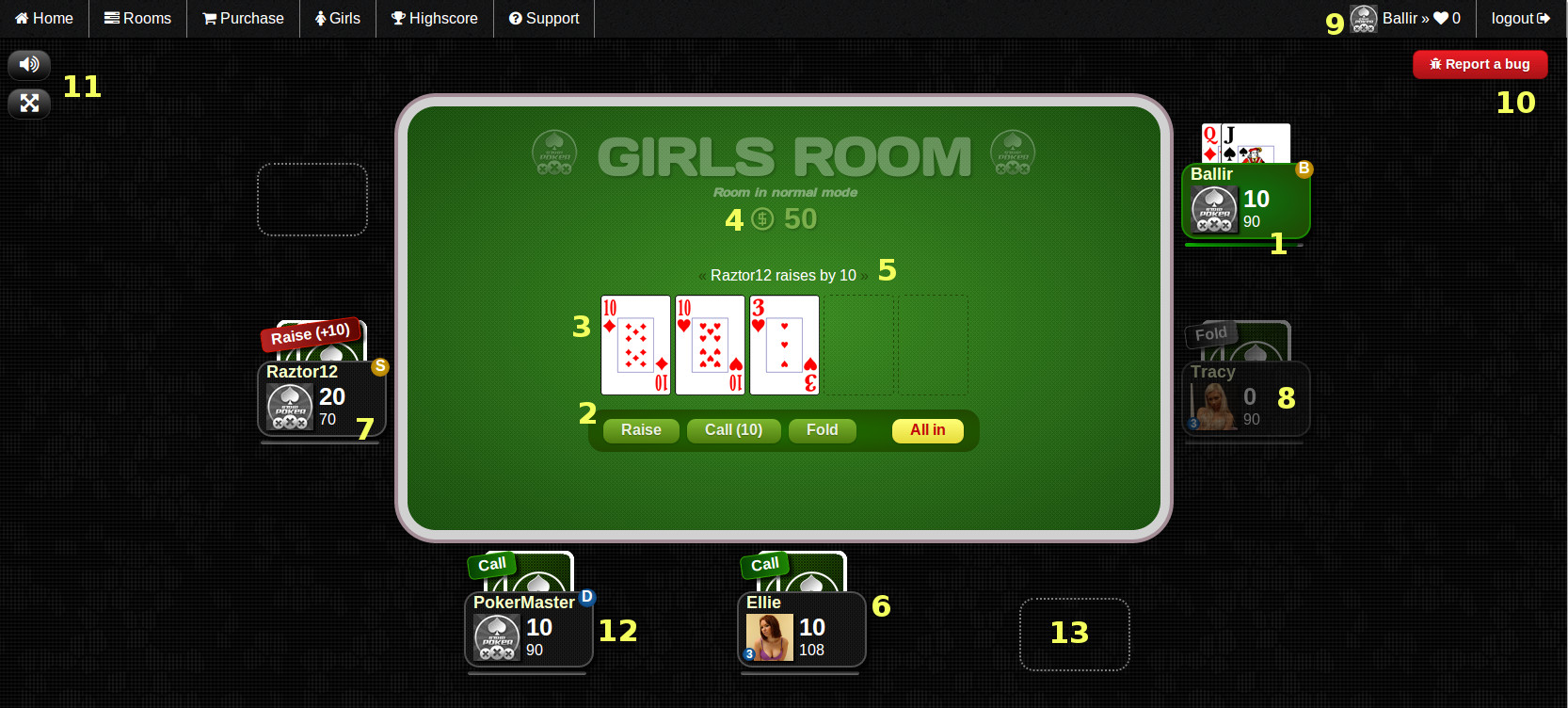 1. Your seat around this table. A seat will become green to highlight who is currently playing. On this screenshot, it's your go. The green bar below your seat shows how much time you got left to play before the program automatically chooses to fold. The top number is the amount you have already bet and the bottom number is the money you got left in this room (you start a room with only 100 but you can rebuy later if you loose all your ). The letter B in the orange circle means your are Big Blind on this game.
2. When it's your go, the action menu is displayed in the middle of the table. The amount to call is written on the call button. If you bet 10, it means you add to the pot the call amount and 10 more. On this example, betting 10 means you add 10 + 10 = 20 to the pot.
3. The flop is displayed here.
4. The total amount in the pot is displayed here. If some players go all in, the amount of the main pot and the amount of each side pot will be displayed under the total.
5. The events log. You can browse the log with a click on the side arrows. The log is reset each time a new game starts.
6. A sexy opponent, Ellie. Her last action is displayed on a label to help you to read the game. Michell has just called. The number in the blue circle shows the number of items she's got left.
7. An other player, in small blind position as notified by the "S" in an orange circle. His last action is "raise by 10".
8. An other girl, Tracy. Her last action is "fold". Folded payers are displayed with a transparency effect to make them easy to distinguish from the other players.
9. Information on your account: the number of you've got so far.
10. Click on this button to report a bug in this room.
11. You can do here two more actions: mute the game or activate the full screen mode (this feature is not available in every browser)
12. This player is the dealer on this game: the white "D" in a blue circle means Dealer.
13. An empty seat. An other player can enter and sit down here.
Girls
---
Introduction
---
Girls are virtual players driven by an articial intelligence. They appears in the game interface through videos. When playing, you will quickly see one of these videos in the table game. They play as any other player does, without knowing the cards of their opponents. A girl's decisions are only based on her cards and on the other players moves. They can also bluff, of course.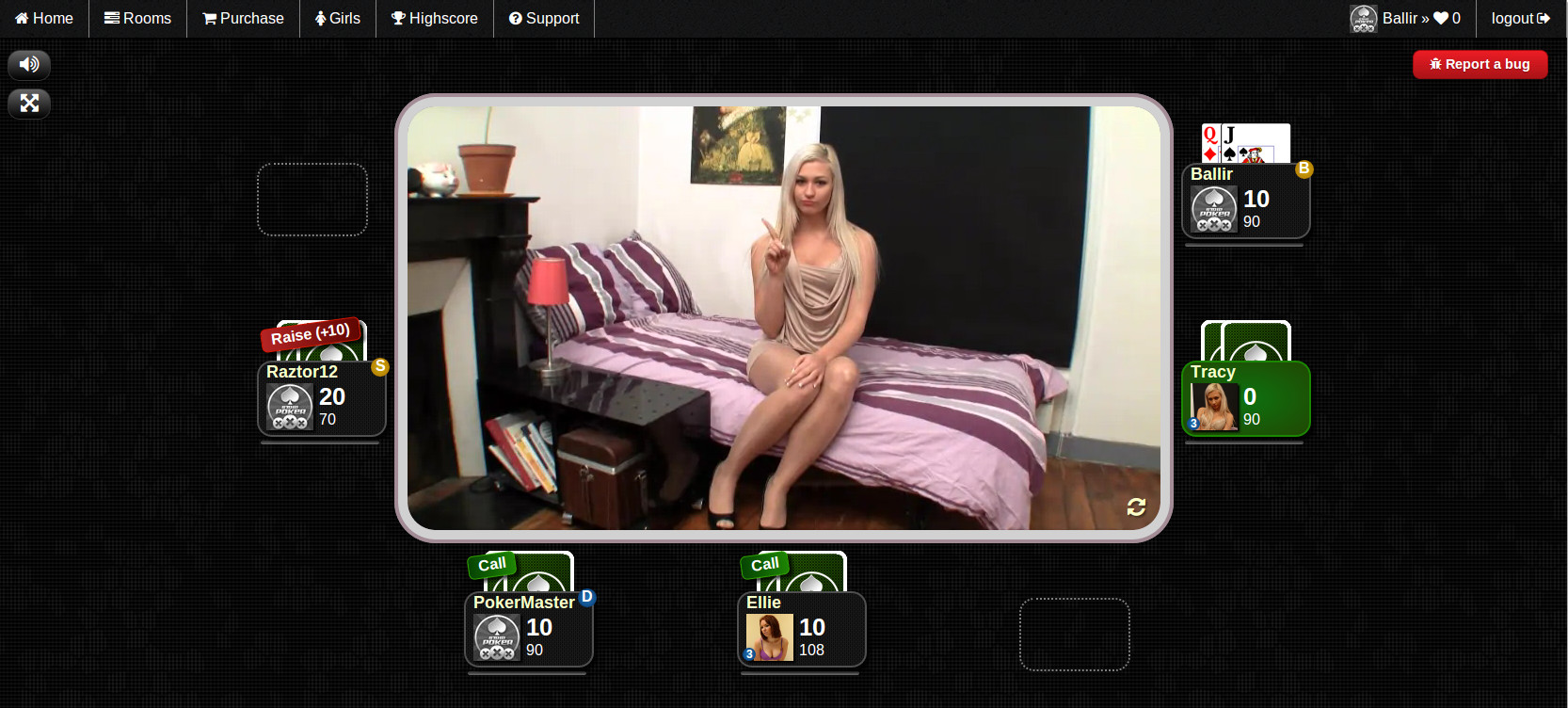 Sexy shows and strip-tease
---
Besides the action videos (bet, fold, call...) you will see in the rooms in normal mode, there are two other kinds of videos: sexy shows and strip tease.
Sexy shows
---
At the end of a game, after the showdown or before if all the payers have folded, a girl can offer to do a little show in exchange of a few chips. A girl will offer a show only if the winner is a real player and only if she has bet at least 30 if she is alone at the table or if the total amount bet by the girls exceed 50 . When a girl asks if she shall do a sexy show, a menu is displayed to allow you to give some chips to the girl. If the amount of chips given by all the players is enough, the girl will do the show. You will then see a video with the girl teasing you, showing her boobs or playing with a sex toy. The chips you give to the girl are not added to her stack in the room thus you can't win them again on her. If the amount of chips given is not enough, you are refunded. The total required changes with the mood of a girl and is unpredictible. Finally, if a girl has to strip, no sexy show will be offered and a girl never does the same show twice.
Strip-tease
---
When a girl does not have any chips left, she has to strip to be allowed to rebuy. You will then see one or more strip teases with the girl taking off one item of clothing. At the end of the strip, the game starts over and the girl has 100 more chips to play with.
Girls chips
---
The chips owned by the girls are "real" and are added to your account when you win a pot. However, a girl can not have more than 200 in a room. If a girl wins more chips than that, all the chips over 200 are taken out of the room, meaning that you can not win them anymore. This way of operating prevents players from getting discouraged if a girl wins too many chips while making the game even more challenging.
When a girl says goodbye
---
When a naked girl looses all her chips one more time, she leaves the table. However, before leaving, she will do a last sexy show for free, longer and naughtier than the others. Each time you succeed in making a girl leave a table, you win some . The number of you can win depends on the girl.
You and the other players
---
Creating your account
---
Creating your account is easy, quick and free. You just have to click on the link "Sign Up" in the top-right corner and to fill in all the required fields. You will receive one minute later an email with a link to activate your account. If you don't get this email, check out your spams. Please note that it is strictly forbidden to create more than one account! This is to prevent people from cheating in a room (playing with two different accounts in the same room). If you try to do that, the game will detect it and your account will be suspended.
Behavior and rules
---
Rules are easy. Apart from having two accounts as explained above, players just have to respect minimal courtesy. If you encounter technical issues, get in touch politely with the support. Any offensive or aggressive message will end up with an account suspension without any other warning. You are also asked no to upload offensive pictures as avata. Administrators will delete these pictures and suspend the corresponding accounts. To notify us of a player who doesn't respect this rule or seems to have more than one account, send us an email or use the button "report a bug" in a room.
Your s
---
By playing, you will win more and more . There are two ways to win :
» By closing a room and being the player with the higher chips profit
» By making a girl leave a room
Have a look on winning hearts to know more. You can also buy some hearts on the purchase page if you want.
let you do three things:
Subscriptions and pass
---
You can play strip-poker for free as long as you want. If you play skilfully, you will end ud with enough to become premium member for one day. But you can also get a subscription and become a premium member right away. You can choose between subscriptions (which renews automatically every week or every month) or simple pass (you pay only once for a long time access without any tacit renew).
Premium members gain the following advantages:
» Full access to the premium rooms (all the videos will be displayed)
» The ability to create private rooms with the girls of their choice
» The ability to customize their profile by uploading an avatar picture
A subscription can be cancelled at any time and without any hidden fee! Of course, if you cancel a subscription, you will still be premium member for the time you already paid.
Getting a subscription or a pass

---
You can get a subscription or a pass by following the link Purchase in the main menu. On the purchage page, you will be able to choose the offer you prefer. Online transactions are not handled by Strip-Poker.xXx but by third-party companies, Paysite-Cash and CCBill. Any complaint about a denied transaction must be directly addressed to them, Strip-Poker.xXx has no part in the process. These companies are specialized in online payments and garantee that the transaction are absolutely secure thanks to the TLS protocol. Of course, nothing about your bank details will be transmitted to Strip-Poker.xXx. By choosing a subscription, you will be redirected to one of these companies website to make the payment. Once this one has been accepted, Strip-Poker.xXx will be automatically notified and your account will be immediately updated. At last, note that for obvious discretion reasons, the name of our brand and website (Strip-Poker.xXx) won't appear on your bank statements.
Cancelling a subscription

---
You can cancel a subscription at any time even 5 minutes after subscribing to it if you want to. If you cancel a subscription before its automatic renew date, you will stay premium member until this date. To cancel your subscription, go to your account page by clicking on your username in the main menu and then click on the button "Cancel my subscription".
Exchanging against an one day pass

---
You can at last exchange 100 to become premium membre for 24 hours. If you are not a premium member and you have more than 100 available, a button "Give 100 to become a premium member for 24 hours" will be displayed under your personal infos on your account page.
Other players
---
The other players are real players who play like you from their computer somewhere in the world. There are no robots. Like in a classical online poker game, you have to watch how the others play to unmask bluffers or to take advantage of a situation. There are no cheat code of any kind.
Highscores, rankings and rewards
---
Rankings and rewards

---
A highscores ranking is live updated on the page highscores. Players are ranked by the number by the number of points they won when closing a room. On this page, you will find 4 different rankings: the highscores of the week, the highscores of the month, the highscores of the year and the highscores of all time. each week, month and year, the corresponding rankings are reseted. And each time, the player being ranked first wins the same time of premium status: winner of the week ranking is awarded with one week as premium member, winner of the month ranking is awarded with one month as premium member to premium rooms and winner of the year ranking is awarded with one YEAR as premium member!
If you win one of the rankings, you will automatically receive an email of congratulations. If you have a subscription running, your award will be added when you will cancel your subscription. If not, your award will be added the next time you log into the website.
Stars

---
Stars are distinctions you get when you win a ranking. From the moment you win a ranking, a star will be forever displayed on your avatar in a room. It will be red if you won a year ranking, yellow if you won a month ranking and green if you won a week ranking. In addition to these ones, an other star, bigger but not permanent will be displayed with the same color code at the bottom-right corner of your seat in a room to show that you are the one whon won the last week ranking or last month ranking. It will disappear as soon as an other player wins the same ranking. At last, if you hover your mouse on a player avatar, you will be shown more detailed stats on him in a tooltip.
Troubleshooting and contact
---
Reporting a bug
---
If you run into problems, you have two ways of letting us know:
- by using the button "report a bug" in a poker room to describe us a bug. This action will not interrupt the game and will send us some useful anonymous data (browser version, screen resolution etc...) to help us to understand what the issue might be.
- by using the contact form to write to us (members only).

Troubleshooting
---
I can't see any videos:
First of all, are you in a normal room? Don't forget that speed rooms only display videos for sexy shows and strip-teases. Then, do you have a broadband internet connection? Videos will never load with a 56k modem. Make sure you do not download anything else at the same time to spare the bandwidth. At last, if you use an other browser, try with Mozilla Firefox or Google Chrome, the way of loading videos is not the same.
A video has frozen and I can't play anymore:
Click on the icon at the bottom-right of the video. The video will be reloaded from a different server which will partially refresh your browser cache. However, this problem may have different origins. Please try to fix the following potential problems:
» Your computer may be overheating, creating some bugs. Close all the applications you do not use.
» Your browser is dealing with cache conflicts: manually empty your cache.
» Update your graphic card driver.
» Your have some codec issues, check than you can read this video.
» Do you have the same problem with an other browser? Using an other browser may easily fix the problem.
I can never play and then I got a message telling me that I don't play anymore:
This problem is probably happening because your browser is struggling to read a video. To fix this, follow the advice in the previous paragraph "A video has frozen".
I don't see my cards:
Your browser is probably not supported. Check the section on Minimum configuration.
I got an error message telling me that my firewall or anti-virus is bloking the connection:
The game works on different ports than classical websites and an anti-virus or a firewall a bit too suspicious can block the connection to the game server. If possible, try to create an exception for Strip-Poker.xXx. We strongly advise against inactivating your anti-virus or your firewall: Strip-Poker.xXx will never damage your computer but not all the websites on the Internet are harmless.
Contact
---
If you have any suggestions to tell us or a question to ask, please use also contact form to get in touch with us!
Poker rules
---
Work in progress...