» Launch of strip poker version Beta!
By Julien - Published on 1/14/13
After a coding stage a lot longer than expected, the website has eventually opened its gates to players. The game is in beta stage but definitely playable. While we wait for the release of the final version, players can play for free without any time limit. Join a room right now and let us know your first impressions on our game!
Strip poker version beta
The game is open for all and for free during all the beta stage. Registering is quick and easy, you'll only need a valid email address to create your account and you'll be immediately up for playing. Below are two screenshots of the game in beta version. Screenshots were made on Firefox 18, the game does not render as pretty on Internet Explorer 9 due to some internal limitations of its own.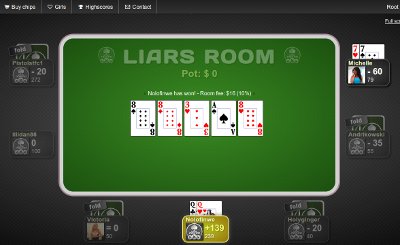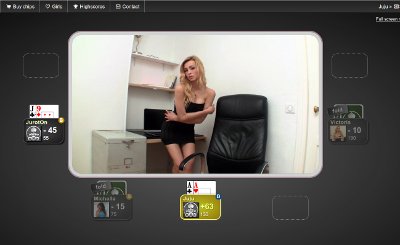 There are still a few restrictions I'm going to expose here.
There are only 2 female opponents. We alreaday have a lot of other clips ready but these ones won't be released for the beta version.
The highscore ranking will be reset for the final version
The number of rooms is limited to 10
Quick start
Because help page is not online yet, I explain here in a few lines how to get started with the game.
First of all, update your browser to its latest version. The game takes avantage of some advanced features of HTML5 and you'll need a modern browser to run them. The game does not work with version of Internet Explorer below 9. We highly recommend you to play with Google Chrome or Mozilla Firefox. These browsers are powerful, safe, compliant with web standards and thus will give you the best game experience. You can play on any classical desktop OS (MacOS, Windows, Linux) but mobile platform are not supported yet (Android and others).
You have then to create your account. Once your account has been created and activated, you can start to play! Go to the rooms page. All the rooms available are listed there but for now all of them are locked. It's because you must first unlock girls to play! Go to the girls page and click on the unlock buttons. Your account is provided at the beginning with just enough hearts to unlock both girls. You can then if you want save the video files in your browser cache but it's not required. Go back to the rooms page: all of them are now unlocked!
Choose a room. Rooms in normal mode display videos for each action of a girl and let 20 seconds to a player to play. Rooms in speed mode only display strip-tease and sexy shows videos and let you only 10 seconds to make up your mind. Choose if possible a room with players in it, the game only starts if at least two players are present.
Click on the seat of your choice to join the table. This action will cost you some chips and is more expensive if girls have already lost a few items of clothing. At the next deal, you'll be part of the strip poker game! Have fun!
Your contribution
To release the final version of the game, we need your help! Play and report us any problem by using the link "report a problem" in the top-right corner of a room or by using the contact form. But that's not all! Let us know your proposals and your ideas to improve the game. The game is still under development and a good idea will be implemented with pleasure to the gameplay. Of course, tell us also what you dislike in the game, we will listen to all the feedbacks (except if you only send us some insults but I'm sure you've got better things to do ;) )
Next steps
In the following weeks, the game will be regularly updated with the required bug fixes. New pages will also be quickly added to the website: a help page with a game's manual, a profil page where you'll be allowed to update your informations and upload the avatar of your choice and at last probably a "community" page where players will be able to talk about the game, share poker tips or fix a date to play together. In the meaning time, good luck to all!